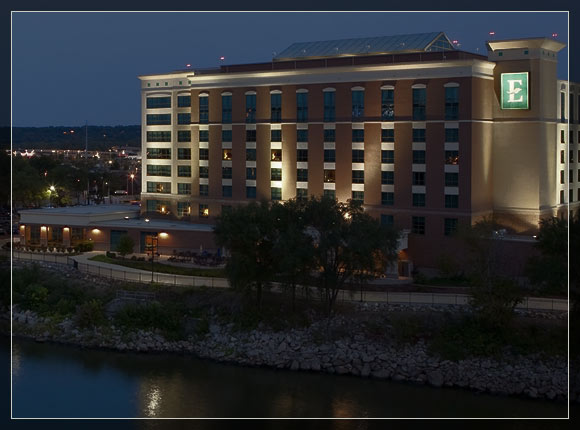 Embassy Suites Hotel & Conference Center
100 Conference Center Drive
East Peoria, IL 61611
Click here to visit hotel website!
A discounted group of guest suites have been held at the Embassy Suites East Peoria – Hotel & Riverfront Conference Center for SAV conference attendees for October 24-28, 2017. The release date will be October 3, 2017. If rooms have not been reserved by that date, rooms will be subject to availability. There are two ways for guest to make their reservations:
1.To make reservations on-line:
Visit www.embassysuiteseastpeoria.com
Select check in date and check out date
Click the blue link that reads "Add special rate codes"
Enter SAV into the Group Code box
Select Check Availability
2. To make reservations by using website:
Visit group.embassysuites.com/2017SharingAVisionConf
Adjust your check in and checkout date
Select Room Type
Finish Reservation by putting in your information
The room rate is $129.00/night + tax for Single or Double Occupancy; $139.00/night + tax for Triple Occupancy; and $149.00/night + tax for Quad Occupancy. The room rate includes the full hot breakfast buffet and evening reception in the lobby.
This Embassy Suites hotel in Peoria, Illinois features 226 two-room suites, each with a separate sleeping and living area and a host of convenient amenities including a microwave, refrigerator, coffeemaker and two 40-inch televisions with cable. Relax and unwind after a long day of business or sightseeing with all the comforts of home.
Start the day with a delicious made-to-order breakfast buffet, and end the day with complimentary drinks and refreshments at our Evening Reception, all included in your guest room rate.